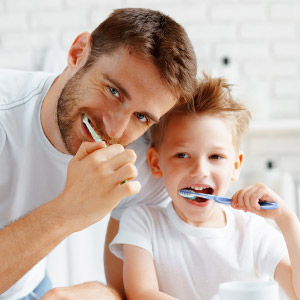 After spending much time and expense to keep your kids healthy, you're probably well-acquainted with your family physician. Similarly, you should be just as chummy with your family dentist: That's because your children's oral health is closely linked to their overall health and well-being.
Of course, good oral health is important for everyone, regardless of age. But it's doubly true for children for one additional reason—they're teeth, gums and jaws are still growing. Current problems like tooth decay or an abnormal bite can affect a child's oral development in ways that could reverberate through the rest of their life.
It's important, then, for you to stay ahead of any potential oral problems that could follow them into adulthood. In recognition of National Children's Dental Health Month in February, here are 4 things you can do to keep your child's dental health and development on track.
Practice oral hygiene. One of the best things we can all do to prevent dental disease is to brush and floss every day. It's equally important for children—helping (and later teaching) them to brush and floss reduces their chances for tooth decay. You should even begin before they have teeth, wiping out an infant's mouth with a clean, damp cloth after nursing to reduce bacterial growth in the mouth.
Schedule early dental visits. In addition to daily oral hygiene, regular dental cleanings and checkups also help prevent dental disease. You should schedule your child's first dental visit on or before their first birthday to give you a head start in preventing or treating tooth decay. Children who begin dental visits early are also less likely to develop dental anxiety.
Obtain further decay protection. Even if parents do everything right, some children are simply more susceptible to tooth decay. But we have a number of treatments that can help prevent the disease. Sealants, for example, fill in the nooks and crannies of biting surfaces to prevent plaque buildup. And, topical fluoride applications help strengthen tooth enamel against bacterial acid attack.
Get their bite evaluated. There's no need to wait until childhood's end to address a bite problem. A poor bite doesn't develop overnight, and often provides signs in a child's early years. That's why it's a good idea to have an orthodontist evaluate your child's bite around age 6. If they find an emerging bite problem, they may be able to intervene now, so you can avoid extensive—and expensive—treatment later.
You have a long list of priorities to keep up with in protecting your kids' health and well-being. Be sure one of those priorities high on the list is their oral health.
If you would like more information about children's dental care, please contact us or schedule a consultation. To learn more, read the Dear Doctor magazine article "Top 10 Oral Health Tips for Children."