Posts for: January, 2013
By Raymond A. Della Porta, II DMD
January 15, 2013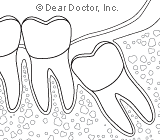 Of all the teeth in the mouth, the ones receiving the most discussion and controversy would have to be the wisdom teeth or third molars. And this is not just a recent phenomenon, as people have been discussing them for centuries! See how much you really know about wisdom teeth by taking our quick and easy true/false self test.
Third molars received their name, "wisdom teeth," because a moderate amount of wisdom is supposedly achieved in life about the time they appear.
True or False
Wisdom teeth and all of their associated problems are commonplace in the practice of dentistry.
True or False
Because wisdom teeth are so unpredictable, they typically make their appearance between the ages of 17 and 25.
True or False
The most common consequence of impacted wisdom teeth is gum (periodontal) disease.
True or False
If wisdom teeth are not removed, they will become impacted or cause crowding. This is why so many people require orthodontic treatment (braces).
True or False
While most people have four wisdom teeth, having more (supernumerary teeth) or less (hypodontia) is possible.
True or False
Through dental x-rays and routine check-ups, we can predict the timing and way in which wisdom teeth become visible (erupt).
True or False
An impacted wisdom tooth, by definition, is a third molar that is colliding with or jammed against another important structure, such as an adjacent tooth, the gums or other important soft tissues in the mouth, or nerves and blood vessels.
True or False
The primary symptom for indicating you have an impacted wisdom tooth is pain.
True or False
If wisdom teeth need to be removed, it is best to remove them at a younger age rather than waiting until periodontal disease has started.
True or False
Answers: 1) True. 2) True. 3) True. 4) True. 5) False. While wisdom teeth can be a factor in crowding, some people have no issues with these teeth. For them, they grow into proper position and are healthy teeth. 6) True. 7) False. Unfortunately, it is not possible to predict the way wisdom teeth will erupt. 8) True. 9) False. In some scenarios, impacted wisdom may cause no pain. 10) True.
To learn more about wisdom teeth and in particular, impacted wisdom teeth, continue reading the Dear Doctor magazine article "Wisdom Teeth." Or you can contact us today to schedule an appointment to discuss your questions.
By Raymond A. Della Porta, II DMD
January 05, 2013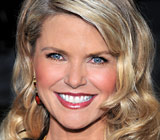 Supermodel Christie Brinkley has a one-in-a-million smile, but she is just one of millions who have benefited from today's preferred tooth-replacement technique: the dental implant. In a wide-ranging interview, Brinkley told Dear Doctor magazine about a helicopter accident she suffered while back-country skiing.
"I fractured two molars in the back of my mouth and I had to get two dental implants," Brinkley told the magazine. "I am grateful for the dental implant technology that feels and looks so natural."
You might think it serves little purpose to replace a missing back tooth that was barely visible in your smile to begin with — especially if you don't spend a lot of time posing for magazine covers. But this is actually not the case. Your molars are extremely important for chewing and even for maintaining a more youthful appearance.
Dentists generally agree that losing posterior (back) teeth can have many consequences for the remaining teeth and their surrounding structures, i.e., bone and gums. If back teeth are missing, the front teeth end up bearing more stress than they were built for. And there are certain things that happen when any tooth is lost, whether front or back, that can affect function and appearance.
For one thing, when a tooth is lost the adjacent teeth tend to drift into the empty space or tip towards it. This can adversely affect your bite. Too much shifting can render a tooth basically useless and also leave it more vulnerable to gum disease.
Another complication is the loss of tooth-supporting bone that inevitably occurs when teeth are lost. When a tooth comes out, the bone under it actually begins to melt away. Since back teeth support the vertical dimension of the face, their loss can cause what's known as "bite collapse" — a reduction in facial height that becomes increasingly noticeable over time and can make you look older.
A dental implant can prevent all of these things, while providing you with a replacement that looks and feels just like the tooth you lost.
If you are interested in learning more about implants, please contact us or schedule an appointment for a consultation. If you would like to read Dear Doctor's entire interview with Christie Brinkley, please see "The Secret Behind Christie Brinkley's Supermodel Smile." Dear Doctor magazine also has more on "Replacing Back Teeth."