Posts for: March, 2013
By Raymond A. Della Porta, II DMD
March 22, 2013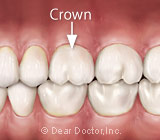 You've taken good care of your teeth all your life, with brushing, flossing and regular visits to the dentist. But chances are that someday (or maybe even now) you may be told that you need a restoration on one or more of your teeth. Oftentimes, that means a crown.
But what exactly is a crown, and why is it used? We're glad you asked!
In the course of time, natural teeth may need to be restored for a variety of reasons. As we age, our teeth may eventually become chipped or discolored. They can become weak and prone to cracking, or actually break due to tooth decay or trauma. Treating tooth decay may require a filling so large that there isn't much tooth surface left. Or, getting a dental implant (which replaces the roots of the tooth) means that you will need a replacement for the visible part of the tooth as well.
A crown (sometimes called a cap) is a common type of dental restoration. It's a way of replacing the tooth structure, in part or in full. A crown can cover the whole visible portion of the tooth, right down to the gum line. Since it's custom-made just for you, it is designed to fit in and function just like the rest of your teeth. And because it's composed of an extremely hard substance (gold, porcelain, ceramic, or some combination of these materials) it's made to last for a long time.
If a dental examination shows that you need a crown, here's how the process works: First, any decay is removed from the affected tooth, and it is prepared for restoration. Then, a 3-D replica of the tooth (and adjacent teeth) is made. This model is used to create a crown that matches your natural teeth. If you're getting a tooth-colored crown, the exact shade of the adjacent teeth will be duplicated as closely as possible.
After the crown has been fabricated, the tooth is made ready to receive the restoration. The crown is adjusted to mesh perfectly with the prepared tooth, and to function with the whole bite. Then, it is cemented or bonded into place. When it's all done, it can be hard to tell that you had any dental work done at all.
If you're thinking that it's a challenge to make an "artificial" tooth fit in with your natural teeth, you're right — but we do it all the time! Creating a superb-looking restoration is a blend of science and art. It takes a careful eye to match tooth colors and to adjust biting surfaces and spacing for a perfect fit. But when experienced dental professionals and patients work together, the results can make us both proud of the achievement.
If you would like more information about crowns, please contact us or schedule an appointment for a consultation. You can also learn more about this topic by reading the Dear Doctor magazine articles "Porcelain Crowns & Veneers" and "Gold or Porcelain Crowns."
By Raymond A. Della Porta, II DMD
March 07, 2013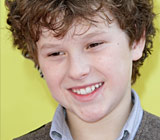 Nolan Gould, who plays Luke on the popular TV comedy Modern Family, has beautiful, straight teeth. But in an exclusive interview with Dear Doctor magazine, the young actor said it wasn't always that way.
"My teeth used to be pretty messed up," Nolan said. "I had two extra teeth when I was born. They hadn't come out (erupted) yet. And all the other teeth that were already there were starting to point backwards because it was getting so crowded in my mouth. At about the age of 7, I started going to the orthodontist to get my teeth checked."
Age 7 may sound early for a visit to the orthodontist, but in fact that's exactly the age we recommend for a first orthodontic evaluation. Malocclusions (bad bites) often become noticeable around this time, as the child's permanent (adult) teeth erupt. We might already be able to see evidence of the following problems: crowding, too much space between teeth, protruding teeth, extra or missing teeth, and sometimes problems with jaw growth. So even if your child is too young for braces, it is not necessarily too early for an orthodontic evaluation.
This type of exam can spot subtle problems with jaw growth and emerging teeth while some baby teeth are still present. Early detection of orthodontic problems makes it easier to correct those problems in the long run. Waiting until all of the permanent teeth are in, or until facial growth is nearly complete, may make correction more difficult or even impossible. That's why the American Association of Orthodontists recommends that all children get a check-up with an orthodontist no later than age 7.
Orthodontic treatment itself usually begins between ages 7 and 14. Therapy that begins while a child is still growing, often referred to as "interceptive orthodontics," helps produce optimal results. In Nolan's case, an early orthodontic evaluation allowed his orthodontist enough time to plan the most effective treatment. Nolan's two extra teeth were removed before they had a chance to push his other teeth even further out of alignment, and he was given orthodontic appliances which fit behind the teeth.
"You can remove them, which is really good for acting, especially because you can't see them. I can wear them 24/7 and nobody will ever notice."
One thing that is noticeable, however, is Nolan's perfectly aligned smile!
If you would like to learn more about improving tooth alignment with orthodontics, please contact us to schedule an appointment for a consultation. To read Dear Doctor's entire interview with Nolan Gould, please see "Nolan Gould." Dear Doctor also has more on an "Early Orthodontic Evaluation."