Posts for: July, 2014
By Raymond A. Della Porta, II DMD
July 17, 2014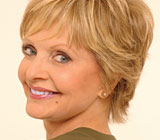 Florence Henderson is a multi-talented actress most recognized for her role as Carol Brady on The Brady Brunch, one of the longest-running situational comedies. In fact, this role earned her the title of America's Favorite TV Mom and her first TV Land Pop Culture Icon award, which is on permanent display in the National Museum of American History.
During an interview with Dear Doctor magazine, Henderson discussed her oral health as well as her role as spokesperson for Polident (denture cleanser) — even though she does not have dentures. Henderson attributes her beautiful, natural smile to prevention. "Flossing, brushing and regular dental checkups are vital if you want to keep your teeth," she said, adding, "I always have mouthwash, dental floss, toothpaste and a toothbrush on the set."
Similar to the great advice "Carol Brady" shared on television, Henderson's advice on oral hygiene is spot-on. We agree that an effective educational approach to oral hygiene and diet is essential to keeping teeth for a lifetime.
The first step is to ensure you have a proper brushing and flossing technique. We can go over these during your next office visit. Our goal is to ensure that you are applying the ideal amount of pressure and motion because gum tissues are soft and can easily be damaged. And you should never use a hard-bristled toothbrush or saw at your gums and teeth when brushing. The best technique is a modified, gentle scrub where you hold a well-designed, multi-tufted toothbrush at a 45-degree angle to the gum line to gently wiggle/scrub your teeth clean.
As for flossing, you should do it at least once daily to remove the plaque buildup that occurs in the protected areas between teeth where your toothbrush can't reach and where periodontal (gum) disease and dental caries (cavities) start and progress. Many people are shocked to learn that over 50% of the accumulation of plaque occurs in these areas.
To learn more about proper oral hygiene, you can continue reading the Dear Doctor magazine article "Oral Hygiene Behavior." Or you can contact us today to schedule an appointment so that we can conduct a thorough examination and discuss what treatment options will be best for you. And to read the entire interview with Florence Henderson, please see the article "Florence Henderson."
By Raymond A. Della Porta, II DMD
July 02, 2014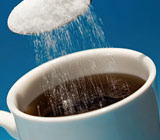 We've all heard about potentially negative health effects from the sugar that's added to many of our favorite foods. So these days, lots of us are trying to cut down on our consumption of sugar — not only to lose weight, but also to help prevent maladies like diabetes and heart disease. We can't help noticing those pastel-colored packets — pink, yellow and blue — on the rack of our favorite coffee shop. But now we're wondering: Are those sugar substitutes a good alternative to natural sugar? And which one should we choose?
Artificial sweeteners have been around for decades. Six different types (including the ones in the colorful packets) are currently approved as safe by the Food and Drug Administration; a couple of older ones (notably cyclamates) have been banned for many years. In addition to those zero-calorie sugar substitutes, low-calorie sweeteners called sugar alcohols (for example, mannitol and xylitol) are often used as food ingredients. So what's the difference between them — and which one is best?
That's not so easy to answer. If you have a rare genetic condition called phenylketonuria, you should avoid aspartame (the blue packet), because your body can't process the substance. Otherwise, the choice may come down to a matter of taste. Even though they are FDA-approved, some controversy (both fact-based and far-fetched) remains about the long-term safety of sugar substitutes, and their usefulness in preventing obesity and other diseases.
Yet it's clear that for some people, the consequences of consuming too much sugar could be much worse. So if you're at risk for diabetes or certain other diseases, sugar substitutes can be an important tool in maintaining a healthier diet. They also have another health benefit: sugar substitutes don't cause cavities. Further, some sugar alcohols (xylitol in particular) have the property of stimulating saliva flow, and have been shown to actually impede the formation of cavities. Oral health is an important (if sometimes overlooked) component of your general well-being, and several studies have pointed to a link between oral and systemic diseases — for example, diabetes and heart disease.
As with so many aspects of our health, there seems to be no "magic bullet" to cure all our diet-related problems. But used in moderation, artificial sweeteners can be a valuable part of the effort to improve our overall health and well-being. For more information on this topic, see the Dear Doctor article "Artificial Sweeteners."