Posts for: October, 2014
By Raymond A. Della Porta, II DMD
October 24, 2014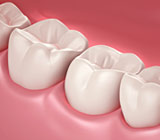 Getting a new crown for a front tooth is a standard procedure performed in thousands of dental offices around the country. But dental patients are sometimes surprised to find that the price of this routine treatment can vary by a substantial amount. What accounts for the difference? The answer tells us a lot about how crowns are made, and the value of aesthetics in dentistry.
Crowns may be made of several different materials. Gold, the most traditional restoration material, makes for a time-tested, functional and durable crown, lasting as long as 50 years. Gold is a precious (and expensive) metal, but considered over the lifetime of the restoration, it's an economical choice. Yet, even for back teeth, it's losing out in popularity to more aesthetically pleasing alternatives.
Porcelain-fused-to-metal (PFM) crowns and all-porcelain crowns replicate the look of natural teeth more accurately. The kind of porcelain used in restorations must have special strengtheners added, which enable it to stand up to wear and tear in the mouth. There are different porcelain materials used in dental restoration, each with a different look, quality and longevity. There are also new, high-tech ceramic materials. Each one has advantages and drawbacks, and each one's cost is different.
Besides the material, another large part of a crown's cost is the custom-fabrication of every piece. Since it must match the other teeth in form and function — and often in looks as well — every crown must be made to an individual's exact requirements. This includes the tooth's exact size and shape, its spacing, and (often) its particular color.
Making this happen is a multi-step process. First, a dentist carefully prepares a model of the affected tooth and its neighbors. Then, the fabrication work is normally performed by a highly skilled laboratory technician, at the dentist's direction. Finally, the dentist prepares the tooth for the restoration, performs final adjustments, and attaches the finished crown. When it's done, the restored tooth can be difficult to tell apart from any other.
The level of craftsmanship involved at the dental laboratory can vary — and along with it, the price. Dentists may even choose different technicians based on the quality level they're striving for. All of these factors affect the final cost of the crown, and its value to the patient.
It has been said that beauty is in the eye of the beholder, and this is certainly true in the case of dental restorations. The choice of a "best" crown is different for every person — more than one alternative may be available, and each comes with its own price. If you have more questions about your options for a crown restoration, don't hesitate to ask us!
If you would like more information about crowns, please contact us or schedule an appointment for a consultation. You can also learn more about this topic by reading the Dear Doctor magazine articles "Value of Quality Care," "Porcelain Crowns & Veneers," and "Gold or Porcelain Crowns."
By Raymond A. Della Porta, II DMD
October 09, 2014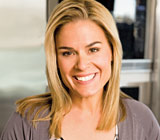 When asked about her dazzling white smile, Cat Cora, the first female iron chef on the hit television series Iron Chef America, freely admits to maintaining the brightness of her smile with professional whitening sessions.
"With what I do, whitening your teeth is like getting your hair done, your nails done and everything else you have to do to be on television," Cat recently told Dear Doctor magazine. However, she does have her limits. "I want my teeth to be white and healthy looking — but not stark white or looking like they could glow in the dark," she said with a laugh.
Cat's perceptions and experiences with tooth whitening may accurately describe Hollywood, but through the power of media, celebrities and their respective fan bases, having attractive white teeth has become a goal for most people. This is because white teeth are subconsciously associated with youth and virility.
Here in the dental office, we can use professional-strength "power bleaching" to whiten teeth several shades in a single visit. To prevent irritation to the area surrounding the teeth being treated, we isolate the gums and skin of the mouth with a protective gel or a rubber barrier known as a dental dam. After the whitening solution is placed on the teeth, the process may be supplemented by heat or a light source to activate or enhance peroxide release.
For bleaching teeth at home, our office can make custom-fitted bleaching trays that you fill with a gel form of carbamide peroxide. Sometimes this whitening gel can cause a temporary tooth sensitivity to hot and cold, but this normally lasts for no more than four days after you stop bleaching your teeth.
To learn more about tooth whitening, you can continue reading the Dear Doctor magazine article "Teeth Whitening." Or you can contact us today to schedule an appointment so that we can conduct a thorough examination and discuss what treatment options will be best for you. And to read the entire interview with Cat Cora, please see the article "Cat Cora."