Posts for: April, 2015
By Raymond A. Della Porta, II DMD
April 24, 2015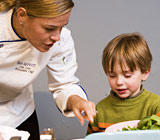 When Cat Cora is not doing battle as the first female chef on the Food Network's hit series Iron Chef America, she is busy caring for the needs of her four active young sons. This includes monitoring the food they eat and their oral hygiene habits.
The busy chef, restaurateur, author, philanthropist and television personality recently revealed in an interview with Dear Doctor magazine that it all started when her four sons were little. She got rid of bottles and sippy cups as soon as possible to prevent tooth decay. She also started exposing her boys to a wide variety of spices and foods when they were infants — for example, by putting cinnamon in their baby cereal. Cat limits the amount of sugar in their diet by using fruit puree in baked goods and BBQ sauces, or the natural sugar substitute Stevia. Furthermore, Cat reports, "my kids have never had fast food."
Cat is right on target with her approach to her children's oral health. In fact, we are often asked, when is the right time to schedule a child's first dental appointment? Our answer surprises some people — especially those expecting their first child.
The ideal time to take your child to the dentist is around age 1. Why so young? A baby's first visit to the dentist sets the stage for lifelong oral health. Besides, tooth decay can start very early. Baby Bottle Tooth Decay (BBTD), as the name suggests, impacts children who often go to sleep sipping a bottle filled with a liquid containing natural or added sugars, such as formula, fruit juice or a fruity drink mix. Another condition, Early Childhood Caries (ECC), is often found in children who continuously use sippy cups (again, filled with sugary liquids), children who breast feed at will throughout the night, children who use a sweetened pacifier, and children who regularly take sugar-based oral medicine to treat chronic illness.
To learn more about this topic, continue reading the Dear Doctor magazine article "Age One Dental Visit." Or you can contact us today to schedule an appointment. And to read the entire interview with Cat Cora, please see the article "Cat Cora."
By Raymond A. Della Porta, II DMD
April 09, 2015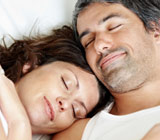 Do you snore? You can admit it. Most everyone does, from time to time. But if snoring becomes a frequent and disturbing feature of your nighttime routine, it may be more than just an annoyance. Did you know that excessive snoring — when accompanied by irritability and depression, daytime sleepiness and confusion, and/or several other physical and mood problems — is one of the common symptoms of a sleep-related breathing disorder (SRBD)?
SRBDs are potentially serious conditions, with consequences that can range from poor workplace performance to possible cardiovascular and brain damage. One of the most significant of these maladies is called Obstructive Sleep Apnea, or OSA, a condition in which the tongue and surrounding soft tissues fall back into the throat and obstruct air flow. This reduces oxygen levels in the blood, causing the body to wake suddenly — and in severe cases, it can happen up to 50 times an hour, without a person consciously realizing it.
Needless to say, that doesn't make for a good night's sleep. But even if it turns out your snoring problem isn't severe OSA, it can still prevent you (and your partner) from feeling refreshed in the morning. Did you know that we may be able to recommend an oral appliance that has been proven to alleviate problem snoring in many cases? This custom-made device, worn while you're sleeping, helps maintain an open airway in the throat and reduce breathing problems.
If you have this condition, it's critical that you get professional advice. Dentists who have received special training in sleep problems can evaluate you, provide medical referrals when needed, and help determine the type of appliance that may work best for you. Since sleep disorders can be problematic, a thorough evaluation and follow-up monitoring is essential.
Several treatments for SRBDs are available. But oral appliance therapy, when it's recommended, offers some distinct advantages. The small appliances are comfortable, easy to wear, and very portable — unlike more complex medical devices such as CPAP machines. They're a non-invasive and reversible treatment that should be considered before undertaking a more intensive treatment, like surgery. Could an oral appliance benefit you? Why not ask us if we can help you get a good night's sleep.
If you would like more information about oral appliance therapy for sleep problems, please contact us or schedule an appointment for a consultation. You can also learn more by reading the Dear Doctor magazine articles "Sleep Disorders and Dentistry" and "Sleep Apnea FAQs."