Posts for: April, 2019
By Raymond A. Della Porta, II DMD
April 19, 2019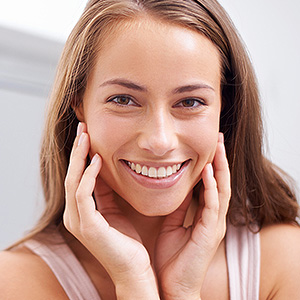 While the imagination is one of our most powerful mental abilities, many people still find it difficult to "see" in their minds a future dramatically different from the present. That could be the case with a "smile makeover"—it's not easy to imagine how proposed changes to your teeth and gums can affect your entire look.
Computer imaging software has helped in this regard. Starting with a photo of your current smile, we can manipulate it with imaging software to show you what any proposed dental work might look like after completion. But imaging technology has its limits: you're viewing a static, two-dimensional image that can't really show you how your new smile looks as your mouth and face move in a three-dimensional space.
There is another way, and although it may add to your treatment costs it can give you an even more realistic view of your future appearance. Known simply as a "trial smile," it's a procedure in which we temporarily place life-like bonding material called composite resin on your current teeth. We shape, cure and sculpt the resin to produce a three-dimensional model of what your future smile will look like.
A trial smile gives you a chance to experience in real time how this future smile looks and feels as you smile or talk. And although we'll have to remove it before you leave, we can photograph your new look for you to show to family and friends later for their reaction.
There are a couple of important reasons to have a trial smile. First, it gives us both a chance to review how the proposed changes may enhance your appearance, and whether we need to alter those plans in any way. It's a kind of dress rehearsal where we can improve the "script" before the actual performance.
Just as important, a trial smile can help reassure you about what to expect from the outcome. You'll have a fairly accurate idea of how you'll look, which will help reduce any apprehensions you might have.
If you'd like to include a trial smile in your treatment plan, please feel free to discuss it with us. It can be money well spent to ensure you'll be satisfied and delighted with your new smile.
If you would like more information on ways to restore your smile, please contact us or schedule an appointment for a consultation. You can also learn more about this topic by reading the Dear Doctor magazine article "Testing Your Smile Makeover."
By Raymond A. Della Porta, II DMD
April 09, 2019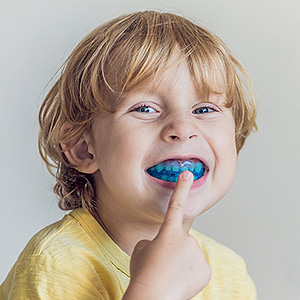 April brings the perfect weather to get outside and play. Fittingly, April is also National Facial Protection Month. Whether you prefer softball or basketball, skateboarding or ultimate frisbee, don't forget your most important piece of equipment: a mouthguard to protect your face and your smile!
In an instant, a blow to the mouth can cause a dental injury that is painful to endure and expensive to treat. In just about any sporting activity, your mouth could come into contact with a piece of equipment, another person or the ground. That's why the American Dental Association and the Academy for Sports Dentistry recommend using a mouthguard when participating in any of over 30 activities, including some that aren't typically considered contact sports, like volleyball and bike riding.
Common sense, observation and scientific research support the use of mouthguards during sporting activities—but are the ones you get from your dentist really any better than the kind you can grab off the shelf at a sporting goods store or drugstore? The answer is yes!
In a 2018 experiment, researchers created a model of the human head to test how direct impact affects the teeth, jaws and skull. They compared the effects of impact when using no mouthguard, when using a custom-made mouthguard available from the dentist, and when using a stock mouthguard. They also tested mouthguards of different thicknesses. The results? The experimenters determined that any mouthguard is better than no mouthguard and that custom mouthguards available from the dental office are more effective than off-the-shelf mouthguards in protecting teeth, jaws and skull from impact. They also found that the thicker the mouthguard, the better the protection.
Although custom mouthguards are more expensive than the kind you can buy at the corner store, the difference in protection, durability, comfort and fit is well worth the investment. We consider your (or your child's) individual needs, take a precise model of your mouth and provide you with a custom-fit mouthguard of the highest quality material.
Don't ruin your game. A mouthguard can go a long way in protecting your teeth and mouth from injury. If you would like more information about a sports mouthguard, please contact us or schedule an appointment for a consultation. To learn more, read the Dear Doctor magazine articles "Mouthguards" and "An Introduction to Sports Injuries & Dentistry."