Posts for tag: Dentures
By Raymond A. Della Porta, II DMD
June 23, 2018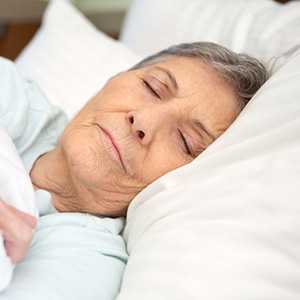 Perhaps you've heard the old saying: "Take care of your dentures and your dentures will take care of you." Well, maybe it's not that old—but it's still a sensible notion. Maintaining your dentures by routinely cleaning them and having them checked for fit will improve their longevity.
There's one other thing you should include on your maintenance routine—avoid wearing your dentures 24/7, especially while you sleep. This bad habit could lead to some unpleasant consequences.
For one, wearing dentures continuously can accelerate bone loss in the jaw that eventually causes your dentures to lose their comfortable fit. Bone loss is a natural consequence of tooth loss because the bone no longer receives the stimulation to grow transmitted by the teeth during chewing. Dentures can't transmit this stimulus; what's more, the pressure they place on the gums and underlying bony ridges could make bone loss worse. You can relieve this gum pressure at night by taking them out.
Dentures can also become a breeding ground for bacteria and fungi that cause disease, irritation and unpleasant mouth odors. Taking dentures out at night deprives these microorganisms of a prime opportunity to carry on business as usual—and it's also a great time to clean your dentures. People who sleep with their dentures in their mouth are more likely to have gum or oral yeast infections and higher levels of proteins produced by white cells that increase inflammation. That could contribute to other diseases throughout the body.
Besides taking your dentures out at night, you should also practice other daily hygiene tasks. Remove your dentures after eating and rinse them with clean water. Brush your dentures daily with a soft-bristled brush and dish or antibacterial soap or dental cleanser (no toothpaste—it's too abrasive for denture surfaces). Be sure you clean your gums and tongue every day too. When your dentures are out, store them in clean water or preferably an alkaline peroxide-based solution.
Removing your dentures at night and these other good habits will help extend the life and fit of your dentures. It could also help keep the rest of you healthy.
If you would like more information on denture care, please contact us or schedule an appointment for a consultation. You can also learn more about this topic by reading the Dear Doctor magazine article "Sleeping in Dentures: A Habit that Can Cause Health Problems."
By Raymond A. Della Porta, II DMD
February 13, 2018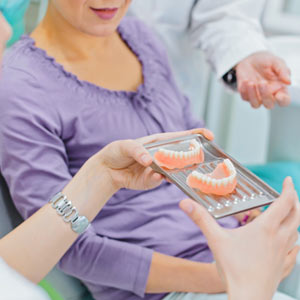 Twenty-six percent of American adults between 65 and 74 have lost all their teeth to dental disease. This isn't an appearance problem only—lack of teeth can also harm nutrition and physical well-being.
Fortunately, we have advanced restorative options that can effectively replace missing teeth. Of these, there's a tried and true one that's both affordable and effective: removable dentures.
Dentures are simple in design: a plastic or resin base, colored with a pinkish-red hue to resemble gums to which we attach prosthetic (false) teeth. But while the design concept isn't complicated, the process for creating and fitting them can be quite involved: they must conform to an individual patient's jaws and facial structure if they're going to appear natural.
If you're considering dentures, here's some of what it will take to achieve a successful outcome.
Positioning the teeth. The position of the prosthetic teeth on the base greatly determines how natural they'll appear and how well they'll function. So, we'll need to plan tooth placement beforehand based on your facial and jaw structures, as well as photos taken of you before tooth loss. We'll also consider how large the teeth should be, how far to place them forward or back from the lips, and whether to include "imperfections" from your old look that you see as part of your appearance.
Simulating the gums. While the teeth are your smile's stars, the gums are the supporting cast. It's important that we create a denture base that attractively frames the teeth by determining how much of the gums show when you smile, or adding color and even textures to better resemble gum tissue. We can also add ridges behind the upper teeth to support speech.
Balancing the bite. Upper and lower dentures don't operate in and of themselves—they must work cooperatively and efficiently with each other during eating or speaking. So while appearance matters, the bite's bite adjustment or balance might matter more. That's why we place a lot of attention into balancing and adjusting the bite after you receive your dentures to make sure you're comfortable.
This is a detailed process that we may need to revisit from time to time to make sure your dentures' fit remains tight and comfortable. Even so, modern advances in this traditional restoration continue to make them a solid choice for total tooth loss.
If you would like more information on denture restorations, please contact us or schedule an appointment for a consultation. You can also learn more about this topic by reading the Dear Doctor article "Removable Dentures."
By Raymond A. Della Porta, II DMD
July 20, 2015
Losing teeth can be a blow to anyone's self-esteem, especially if those teeth are visible. The way someone looks often dictates how they feel, leading to psychological and social consequences that could go so far as to affect one's quality of life. Thankfully, options for
dentures abound for those with missing teeth, and those options are more economical and effective than ever from your Vero Beach dentist Dr. Raymond A. Della Porta.
Who can use dentures?
Good candidates for dentures, or removable tooth replacement appliances, have experienced significant tooth loss. Patients should have enough healthy jawbone and gum tissue for the denture to attach to. They should also know dentures' limitation, set realistic expectations and be willing to learn how to properly care for their dentures, all of which can be achieved by talking with your dentist Dr. Della Porta in Vero Beach.
How can dentures help restore my social life?
Dentures can change a life. Speaking and even eating can be achieved with ease compared to with a mouth full of missing teeth. Often, when teeth are missing, the facial features can become skewed. Dentures work to fill the face out, similarly to natural teeth, eliminating a changing appearance due to missing teeth. The confidence that comes with this renewed appearance is priceless. Smiling, eating and speaking are transformed into something that requires zero second guessing, and the habit of speaking or laughing without showing the teeth can finally be broken.
How can I care for my dentures?
Since dentures sit on the gums, wearers are at risk for bone atrophy. It is very important that the dentures fit correctly and are monitored for any changes in the fit. Regular dental checkups are absolutely vital to maintaining good oral health while wearing dentures. The dentures must also remain moist when not in use, meaning the wearer must soak them in a denture solution or plain water when dentures come out for the night. It is also important to brush the dentures twice a day with a denture brush to clean off any leftover food particles, bacteria or plaque that could be present.
If you are missing teeth and are considering dentures as a replacement option, Dr. Raymond A. Della Porta in Vero Beach, FL can help. Visit www.drdellaporta.com for more information on dentures and to schedule an appointment.