Posts for tag: sleep apnea
By Raymond A. Della Porta, II DMD
March 10, 2014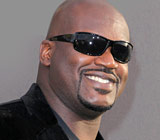 You may think snoring is a minor problem, but it can be a lot more than that. Just ask hoops star Shaquille O'Neal, whose rambunctious snoring bothered his girlfriend enough for her to suspect a health problem. Her observations eventually led to Shaq's diagnosis of moderate Obstructive Sleep Apnea (OSA), which occurs when the soft tissue structures at the back of a person's throat, including the tongue, partially close off the upper airway and prevent air from moving into the lungs during sleep. Sometimes airflow can be blocked completely for 10 or more seconds.
When air flow is reduced, blood oxygen levels drop. This leads to brief waking episodes known as "micro-arousals," which can happen sometimes more than 50 times an hour. The sleeper might not even be aware of this, even while gasping for air. Micro-arousals prevent the person from ever reaching deep, restful sleep.
Besides suffering from excessive daytime sleepiness, studies show sleep apnea patients are at higher risks of heart attacks, congestive heart failure, high blood pressure, brain damage and strokes. People with sleep apnea also have a higher incidence of work and driving-related accidents.
OSA can be treated in a few different ways. On the advice of his doctor, Shaq opted for a Continuous Positive Airway Pressure (CPAP) machine, which generates pressurized air delivered through a face mask worn while sleeping. The force of the pressurized air opens the airway (windpipe) in the same way as blowing into a balloon does.
For people with milder OSA, or who find they can't tolerate wearing a mask during sleep, an oral appliance supplied by a dental professional might be the answer. Oral appliances are worn in the mouth and are designed to gently reposition the jaw and move the tongue forward away from the back of the throat. Success rates of 80% or more have been reported using oral appliances, depending on the severity of the OSA.
If you would like more information on sleep apnea, please contact us or schedule an appointment for a consultation. You can learn more about sleep apnea by reading the Dear Doctor magazine article "Snoring & Sleep Apnea." Dear Doctor also has more on "Sleep Disorders & Dentistry."
By Raymond A Della Porta, DMD
July 15, 2012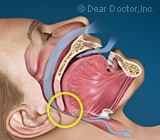 Snoring and other sleeping disorders impact between 50 and 70 million Americans each year. However, did you know that our office can help when it comes to diagnosing and treating sleeping disorders? For this reason, we have put together this list to highlight how we can have a positive impact on your snoring.
Many people are surprised to learn that physician training is lacking and very slowly evolving in the area of sleep related breathing disorders. Therefore, there is limited public and medical awareness. The American Academy of Sleep Medicine (AASM) has acknowledged that properly trained dentists are the first line of therapy for treating mild to moderate sleep apnea effectively.
Because we see our patients on a more regular basis than many primary-care physicians, we dentists are in a unique position to identify and/or detect a SRBD. However, for us to accomplish this, you must share the facts about your sleeping habits and issues related to breathing. In other words, do not be embarrassed to let us know that your spouse, sleeping partner or family complain to you about your snoring!
When it comes to treating complications associated with Oral Appliance Therapy (OAT) used in managing Sleep Related Breathing Disorders (SRBD), dentists are the primary professionals who are specifically trained to create, fit, adjust, monitor and treat any complications associated with a mouthpiece (oral appliance).
Did you know that dentists help identify the approximately 90% of misdiagnosed cases of patients suffering from a SRBD? Well, it is true. We play a critical role in diagnosing and treating these patients.
Another reason why it is much easier for us to diagnose and treat these problems is because the core of our training is centered upon the oral cavity, mouth and parts of the upper airway — the very areas where your snoring and SRBDs occur.
If you suffer from snoring or any other Sleep Related Breathing Disorder, it is imperative that you seek and obtain treatment. Ignoring these problems can lead to issues such as: an irregular heartbeat, heart attacks, high blood pressure, and other forms of heart disease as well as strokes and impotence. Contact us today to discuss your questions about snoring or to schedule an appointment. You can also learn more about snoring and sleep disorders when you continue reading the Dear Doctor magazine article "Sleep Disorders & Dentistry."